A few weekends ago we decided to go for a road trip out to Suffolk to have a look around. Primarily to see Bury St Edmunds, the Greene King Brewery and a small town called Lavenham. When wandering through Bury, the walkway went through a derelict cemetery.. I still don't understand how they treat cemetery's like they do.
Bury St Edmunds is a lovely old town with quite a bit of history. Below I am standing outside one of the old Abbey gates.
It is host to Suffolk's only cathedral and has the ruins of the once vast 11th century Benedictine abbey. The abbey ruins were absolutely massive!
They were so big in fact that below is a picture of some houses that have been built into the old Abbey wall!
After the wander through the abbey we headed to the Greene King Brewery.
The brewery was reasonably impressive, and used some of the same presses and vats that were installed in 1800.
But we didn't just go there to see dried hops, oh no!
We went to taste some of the local beers as well.
After drinking an amount of alcohol that still allowed me to drive legally, we headed to Lavenham. The reason to go Lavenham? Harry Potter.
Lavenham is a small medieval village that's been relatively untouched by modern architecture. So no wonder it was used as the town of Godric Hollow where Harry's parents lived. Here is a screenshot where Bathilda Bagshot (aka the creepy old woman) wanders up a Lavenham street.
While we couldn't find the exact street where this was shot, you can certainly see that Lavenham is full of medieval houses. It's a picturesque village, for sure.
In the movie as well, Harry and Hermione visit Harry's parents' house – still damaged from when Voldemort attacked it.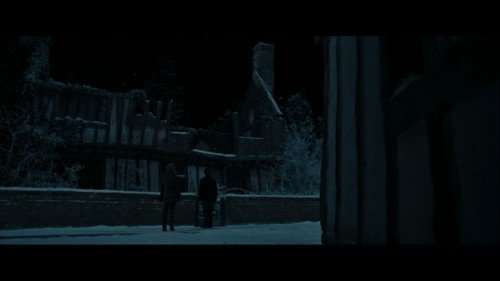 In the real world, the movie makers used Lavenham's Guildhall as the basis for the Harry's parents' house. The amount of CG used, though, means that there's little to really recognize. It's a beautiful building though, and Lavenham is an amazing town with all the wobbly houses and winding streets.
It great finish to an enjoyable day.
Everyone should go for little day trips from home sometime. It's nice to wander around and explore.