Pembrokeshire is a beautiful part of Wales – lovely beachy coastlines and pretty seaside towns. But it was freezing! I'm wearing all my warm clothes to block an icy wind in the photo below.
We were staying in the seaside town of Tenby – built on the cliff to a sheltered harbour where all the buildings are painted candy colours. Nice! It was a really great place to stay, with an enjoyable selection of pubs and restaurants.
Just off the the point from Tenby is an impressive looking fortress on an island! It was unfortunately not accessible to the public and was apparently a place of religious solitude rather than a military installation. Pretty neat, none-the-less.
Pembrokeshire is a beautiful part of Wales. Despite the freezing wind, we went to visit one of its top beaches, Freshwater West. But I assure you we weren't swimming in that cold! It was relaxing to hear the crashing waves and smell the salty air. We've been away from the coast too long. The wind was blowing so hard in this photo, Rob kept losing his footing!
This was actually another Harry Potter sight. Hopefully that doesn't spoil its beauty for you!!
In Harry Potter and the Deathly Hallows Part 1, this is the beach where Dobby died and had the Dobby's Shell House where they stayed after. The Shell House was dismantled after filming leaving just the beautiful dunes.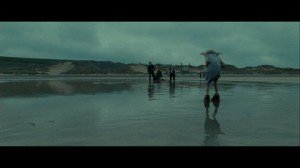 But we didn't just visit Pembrokeshire for a beach – there's plenty of castles to be seen!
But that's for our next post.
xx
Liz and Rob