As we steadily catch-up on our blog posts from last year, we now move onto Vienna. We loved this city. It had all the grandeur and and beauty of Paris without the hordes of tourists or dirty streets. Vienna is a city of museums too – they have dozens. We only went to 2 but we could've spent a whole week in them.
But the main reason we wanted to visit Vienna? The Hundertwasser Gallery and his other architectural designs in Vienna. He was the guy who designed the Kawakawa Public Toilets and his designs are pretty inspiring.
Firstly, we went to the dedicated Hundertwasser Gallery which talked about his life (of which he spent many many in New Zealand), his philosophies (nothing in life should have straight lines) and many of his art and designs. We couldn't take photos inside the gallery, but the building itself was pretty fabulous! It's tricky to tell, but there are trees growing out of some of the windows – neat!
The gallery had a fabulous cafe too, with uneven and mismatched floors and, of course, creative bathrooms!
Having explored the gallery and had a feed, we trotted out into the rain to find more Hundertwasser styles, and we didn't have to go far! Just down the road was a garage with decorative columns.
A little further down the road again was the Hundertwasser Village, a set of covered shops and an eatery all stylized in an uneven and eclectic way. Fab! I love the garden on the roof.
As the rain started to really set in, we stepped out to see the Hundertwasserhaus – a set of apartments designed by Hundertwasser. Again, there's uneven shapes and surfaces and lots and lots of plants and trees all over it. I'm sure it all looks more colourful and pop when it isn't pouring with rain! But pretty amazing nonetheless.
So, while it might not be a traditional sightseeing, I would highly recommend it! Hundertwasser is the Gaudi of Vienna.
It was great to see more examples of Hundertwasser's work, it makes me hope that the gallery in Whangarei get the support it needs sometime. Here's a photo of the proposed design – I love the grass and garden roof!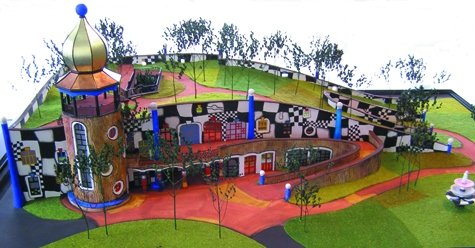 If you want to find out more about the Hundertwasser and Maori Art Gallery that's proposed for Whangarei, visit the website and sign the petition!
We did see more of Vienna, so stay tuned for another blog post.